The education program has organized annual schools that strengthen the emerging science of information student community. The school was designed to connect graduate students, postdocs, and advanced undergrads with each other, the faculty, and the Center's research mission. The school has been held at one of our Center institutions each year and invites Center members, as well as many non-members to participate. Students interact and learn from each other and from leading researchers in the major areas of Center research including information theory and communications, data science, and life sciences. Students network and share their own research through poster sessions, and participate in professional development sessions on diversity issues, panel discussions, and computational tools and methods labs. This brief white paper discusses the elements and impacts of the school on the emerging community. We will partner with the North American Information Theory Summer School/IEEE IT Society in future years to continue to offer this experience to our students.
We invite you to peruse the video recorded presentations, photos, and outcomes reports from past schools through the tabs above.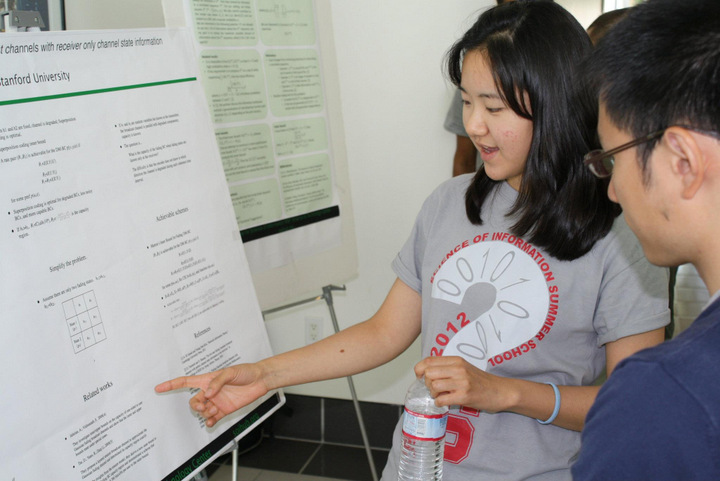 The 2015 school was coordinated in partnership with IEEE Information Theory Society, August 10-13, 2015. Held at Warren College with Center partner University of California San Diego campus offered daily in-depth tutorials and student poster sessions, an iPython scientific computing lab, a mentoring and success panel discussion, a panel discussion on academia vs. industry perspectives, and an additional one day special topic focusing on 5G wireless. 105 students attended the school and our computing workshop and mentoring & success panel.
SCHEDULE
Monday:
9:00am-12:00pm:
Syed Jafar, UC Irvine
2:00pm-5:00pm:
Stephen Boyd, Stanford: Convex Optimization and Applications
Evening sessions:
iPython Computing
Mentoring success panel
Tuesday:
9:00am-12:00pm:
Venkatesan Guruswami, CMU: List and Local Error-Correction
2:00pm-5:00pm:
Urbashi Mitra, USC : Biological Communication Channels: Engineered and Natural
6:30pm:
Banquet at 15
Wednesday
9:00am-12:00pm:
Paul Siegel, UCSD: Constrained Codes for Multilevel Flash Memory (Padovani lecturer)
2:00pm-3:30pm:
Panel: Acedemia vs. Industry Perspectives
4:00pm-8:00pm:
Excursion
5G Thursday

On Thursday, leading researchers from major telecommunication companies described their vision of the next wireless communication systems; an exciting preview of things to come.

9:00am:
Farooq Khan, President, Samsung Research America, Architecting Tb/s Wireless
9:50am:
John Smee, Senior Director, Qualcomm
10:40am:
Tom Marzetta, Alcatel Lucent, MASSIVE MIMO AND BEYOND
11:30am:
Lunch
12:50pm:
Bin Li, Polar Codes for 5G
1:40pm:
Ivana Maric, Ericsson, Information Theoretic Aspects of 5G
2:30pm:
Closing
2014 Review:
The 2014 Center for Science of Information Summer School was hosted at the University of California, San Diego from August 4-8. The school provided a venue where doctoral and postdoctoral students learned from distinguished professors, and formed friendships and collaborations. The school introduced several interdisciplinary life science topics related to the emerging field of science of information. Students presented their own research via a poster session during the school. A professional development session on diversity & success was offered with a panel of scientists including
Robert Gray
, (Professor Emeritus at Stanford University) Shannon Award winner, IEEE Centennial, and Millennium award winner. A separate, but concurrent, workshop reccommended how faculty should teach a science of information course or module. Details on the workshop can be found at
http://www.soihub.org/course-workshop
2013 Review:
The Center's 2013 School was held at Purdue University June 4-7 in conjunction with the North American Information Theory Society Summer School. A total of 140 students, postdocs, faculty, and professional staff took part in the school. Thank you to the organizations that helped make this year's school possible: IEEE Information Theory Society, Purdue University Computer Science Department and Vice President for Research Office, Princeton University Electrical Engineering Department, UC Berkeley Departments of Electrical Engineering & Computer Science, Statistics, and ERSO, Bryn Mawr College Computer Science Department, and Texas A&M Electrical & Computer Engineering Department, along with Center for Science of Information.


Tutorials from the school are available in video with integrated slides below:


Student One Minute Madness Slides and Posters- spreadsheet has direct links to available slides and posters (pdf's).

2012 Review:
May 30, 31, June 1, 2012
Stanford University, Palo Alto, California

Forty-three post-docs, graduate, and undergraduate students representing twelve universities participated in the second annual Science of Information summer school held May 30 – June 1, 2012 at Stanford University. The two primary purposes of the school were to 1) orient students to current research and approaches to grand challenges in the areas of communications, knowledge extraction from data, and life sciences problems where information theory can provide insights, and 2) foster networking between the students such that they gained knowledge of their peers' projects and ideas. Eleven CSoI faculty, one post-doc, and one senior research scientist presented surveys and tutorials. Lectures with video/audio/slides are available below in their entirety.
Posters
2011 Review:
The first annual Science of Information Summer School (May 24th - May 27th, 2011) was held on the Purdue University campus, with students and faculty from ten universities participating. Students were introduced to science of information topics through lectures and labs with opportunities to learn new concepts and tools, while integrating the three primary research thrusts of the Center (Communication, Knowledge Management, Life Sciences). Lectures with video/audio/slides are available below in their entirety, and Laboratory exercises are downloadable. We invite summer school participants to continue the discussion via our Facebook page
Lectures:
Each lecture opens in a new Adobe Connect window which requires the Adobe Flash Player.